It has to be said that the release of policies is getting bigger and bigger。

Just recently, the property market issued a heavy New Deal, mortgage interest rates, down payments are expected to continue to decline!
It is worth noting that this timeXiamen satisfaction"PhasableMaintain, reduce or cancelLocal first housing loan interest rate policy lower limit"Condition of。
This means that Xiamen can independently determine the floor of mortgage interest rates。Not only that,Down payment on a first homeIs also expected to decrease。
With the landing of a series of heavy signals, the upward direction of the property market this year has given enough confidence and confidence, and the hanging heart of house buyers can be landed。
Xiamen mortgage interest rate is expected to be 3 words
These two days, the property market ushered in a number of heavy news。Among them, the reduction of mortgage interest rates is particularly notable。

On January 5, the People's Bank of China and the China Banking and Insurance Regulatory Commission issued a notice, deciding to establish the first set of housing loan interest rate policy dynamic adjustment mechanism。
New commercial housing sales pricesBoth sequential and year-on-year declines for three consecutive monthsThe city can maintain, reduce or cancel the local first housing loan interest rate policy floor。
According to the dynamic assessment of new home prices released by the central bank,厦At least 38 cities are eligible for the new leaderTo be able to execute low interest rates。
In September, Xiamen new home prices fell 0. 0 percent month-on-month.3 per cent, down 3 per cent year on year。

In October, new home prices in Xiamen fell 0. 0 percent month-on-month.7%, down 3% year on year.9%。
In November, Xiamen new home prices fell 0. 0 percent month-on-month.2%, down 3.6%。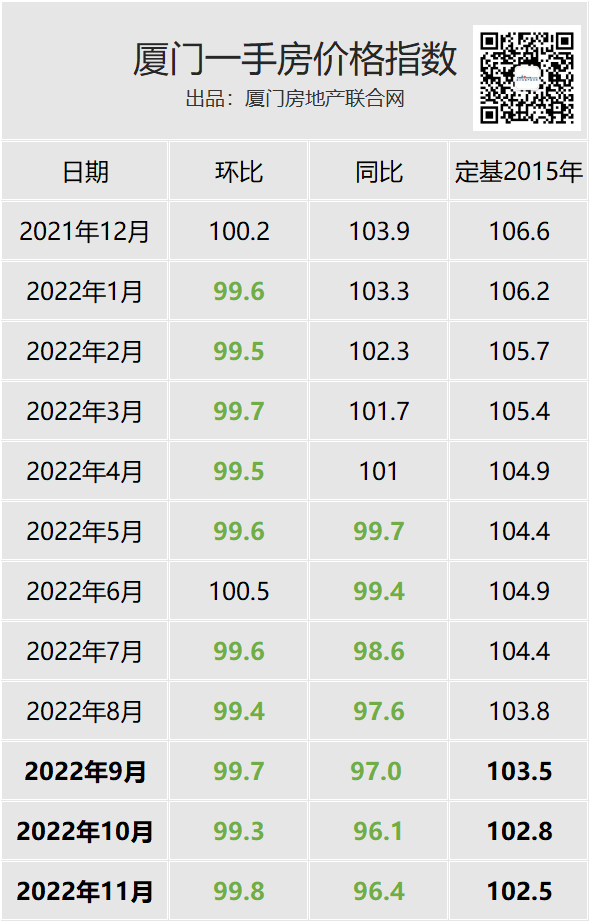 It is worth mentioning that this policy is not the first time。
As early as mid-2022, the central bank announced that the sales prices of new commercial residential housing for three consecutive months in June, July and August were month-on-month and year-on-year, and the lower limit of mortgage interest rates could be determined by self-occupancy。
After the promulgation of the policy, a number of cities have followed up the implementation。Tianjin, Guiyang, Wuhan, Xiangyang, Yichang first suite minimum 3.9%, the first suite in Shijiazhuang has a minimum of 3.8%, Guangdong Qingyuan first suite minimum 3.7%。
However, Xiamen did not fit the bill。Therefore, the first mortgage interest rate has been implemented at 4.1%(4.3%-20 basis points)。
Now in the new policy,Xiamen is in line with the rate cutIn other words, the current 4.1% interest rate is not the bottom!And it's going down!
Refer to other cities,Xiamen first suite mortgage interest rate is very likely, the implementation of 3.9%!This means that Xiamen mortgage interest rates or will officially refresh the history, will enter the real estate history of the lowest!
The down payment ratio is also expected to decline!
Not only that, the minister of housing and Urban-Rural Development also said in an interview: because of the city's policy, precise policy, boost market confidence。
It emphasizes that:
There should be strong support for those who buy their first home。The down payment ratio and the first set of interest rates should be lowered。
For the purchase of a second house, reasonable support should be given。Policy support should be given to families who exchange old for new, small for large, and have many children。For the purchase of more than three sets of housing, in principle, do not support, that is, do not leave room for speculators to re-enter the market。
In fact, since last year, many cities have continuously optimized credit policies to reduce the cost and threshold of home buyers。
According to incomplete statistics, 115 cities have introduced down payment policies in 2022, reducing the down payment ratio of provident fund or commercial personal housing loans to 20%。
Xiamen is also constantly adjusting the house purchase policy。
In terms of the down payment ratio, a new adjustment was made in August this year: 30% down payment for no house in the city (no matter how many times the loan is settled);40% of the house under one's name (no matter how many times the loan is settled);One house to his name, no balance, 50%。
However, the minimum down payment ratio in Xiamen has not been reduced and is still maintained

30% ratio。
At present, although there is a carry-over market at the end of the year in Xiamen property market, the overall volume and price are still hovering at a low level。
In this environment, it is not impossible for Xiamen to reduce the down payment ratio。
You know, from the perspective of real estate loan policy, 20% down payment is obviously a loose policy, and the signal significance is very strong。
2015-2016 national real estate inventory caused a surge in housing prices, 20% down payment + interest rate discount, greatly stimulate the real estate market。
It is believed that with the increase of the relaxation of the property market, more cities will follow up, and Xiamen will also have the opportunity to enter the "20% down payment" team。